With only a week of vacation to enjoy away from work, I decided to spend half the time visiting one of my best friends in Texas. It was the first vacation I've had in over a year, so every day was a mix of over eating, drinking, relaxing, and tourist activities. The four destinations we visited during my trip was Austin, San Antonio, Fort Hood, and Salado. Each place was unique in its own way and offered something different.
Austin, Texas
The first destination was Austin, mostly because it was where my flight landed. We spent most of the time walking around the ever so popular 6th Street and the surrounding blocks. What was most interesting was seeing old architecture mixed with the new; there would be a building that looked like it was built in the 1800s, sitting next to a brand new glass building.
6th Street, for the most part, is peaceful during the day, but at night, they close the street off and it turns into party central. Since I was in the south, I wanted to do what southern people do, which included bull riding and country line dancing at the bar Rebels Honky Tonks. It was the most fun I've had while in Austin and gave me the best southern experience. The rest of 6th Street was fun, but it wasn't anything special. I'm sure some people would disagree, but no more than a day is really needed, which was perfect since that's all I had available to enjoy there.
Frost Bank Building
Architecture on E. 6th Street
Old House few blocks from E. 6th Street
East 6th Street Sign
San Antonio, Texas
The next stop on the day trip tour was San Antonio. This was one spot I actually wish I had more than one day to enjoy. We were only able to spend time at the Alamo and walking along the River Walk. Even though it was a rainy day, the River Walk was so beautiful! We walked so far along the River Walk that we had to take one of the taxi boats back to the beginning spot.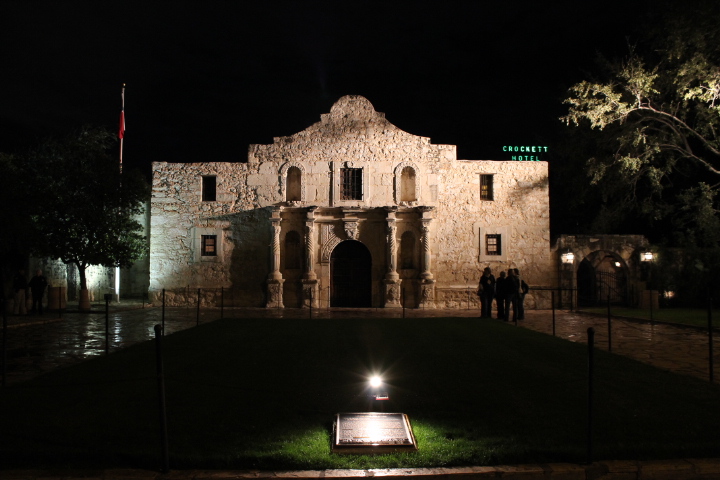 The Alamo
The River Walk
Fort Hood, Texas
Fort Hood was a nice little treat for me since I have this crazy obsession with guys in informs, particularly those in the armed forces. Getting onto Fort Hood was like being a kid in a candy shop. There wasn't much to do here in terms of tourism, except for a little museum that I opted to skip. Fort Hood looks just like any other neighborhood, which I wasn't really expecting. At 5PM, everyone on base has do this type of salute. Even if the soldiers are in their cars, they have to get out and participate. I probably could have spent my entire vacation here if I didn't already have other travel plans.
Salado, Texas
Salado was probably my favorite of the destinations while in Texas. It was so quaint and everyone – and I mean everyone – was incredibly humble, helpful and friendly. It's the kind of place you really get to experience all the southern charm you hear about. We went on the most beautiful day, which allowed us to walk along the main street and visit all the gift shops. If there was one place to visit in this part of Texas, Salado would definitely be it. No more than a few hours was needed to get what I needed to experience how amazing this small town is.
To view more photos of Texas, please visit my Flickr photostream.